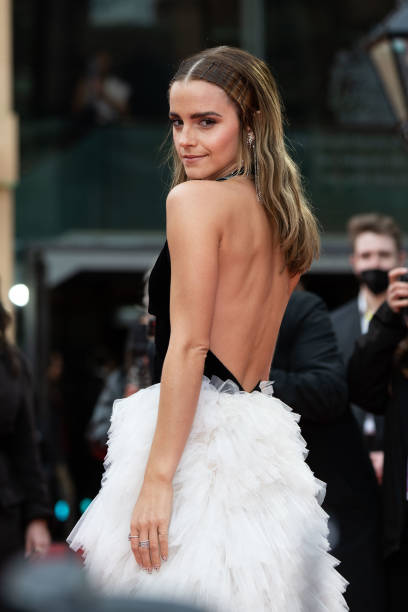 Introduction
Emma Watson, a name that resonates with elegance, talent, and activism, has captured the hearts of millions around the world. From her breakout role as Hermione Granger in the beloved "Harry Potter" film series to her tireless work as a UN Women Goodwill Ambassador, Emma Watson has become a beacon of inspiration and empowerment. In this article, we will explore the remarkable journey of Emma Watson, her influential roles in film and advocacy, and her dedication to promoting gender equality and education.
1. Rising Star and the Harry Potter Phenomenon
Born on April 15, 1990, in Paris, France, Emma Watson was catapulted into the limelight at a young age with her portrayal of the intelligent and courageous Hermione Granger in the "Harry Potter" film series. Her natural talent, undeniable charisma, and ability to bring the beloved character to life endeared her to fans worldwide. As the series unfolded, Watson's talent blossomed, solidifying her status as a rising star in the entertainment industry.
2. Acting Versatility and Post-Harry Potter Career
After the conclusion of the "Harry Potter" franchise, Emma Watson proved her versatility as an actress by taking on diverse and challenging roles. From her portrayal of Sam in "The Perks of Being a Wallflower" (2012) to her captivating performance as Belle in Disney's live-action adaptation of "Beauty and the Beast" (2017), Watson showcased her ability to tackle complex characters and breathe life into beloved stories.
3. Humanitarian Work and Gender Equality Advocacy
Emma Watson's impact extends beyond her acting career. As a UN Women Goodwill Ambassador, she has passionately advocated for gender equality, women's rights, and access to education. She launched the HeForShe campaign, which calls on men to stand alongside women in the fight for gender equality. Through her speeches, interviews, and social media presence, Watson has sparked conversations and inspired individuals to take action for a more inclusive and equal world.
4. Education and Empowerment Initiatives
In addition to her advocacy for gender equality, Emma Watson has been a strong proponent of education and empowerment. She has supported initiatives such as the Malala Fund, which advocates for girls' education worldwide, and the Our Shared Shelf book club, where she encourages reading and discussions about feminist literature. Watson believes in the transformative power of education and aims to create opportunities for marginalized individuals to thrive.
5. Sustainable Fashion and Environmental Consciousness
Emma Watson has also championed sustainable fashion and environmental consciousness. She has made conscious choices to wear eco-friendly and ethically sourced fashion on red carpets, raising awareness about the environmental impact of the fashion industry. Watson believes in the importance of making sustainable choices and supports initiatives that promote responsible fashion practices.
6. Personal Growth and Inspiring Others
Beyond her public persona, Emma Watson has embarked on a journey of personal growth and self-discovery. She has spoken openly about her struggles, insecurities, and the importance of embracing one's true self. Watson's vulnerability and authenticity have resonated with many, inspiring individuals to embrace their own unique journeys and find strength in their imperfections.
7. Continued Influence and Future Projects
Emma Watson's influence shows no signs of slowing down. Her unwavering commitment to social and environmental causes, combined with her undeniable talent, has positioned her as a role model for future generations. As she continues to choose projects that align with her values, Watson's future endeavors promise to inspire and captivate audiences while contributing to positive change.
8. Conclusion
Emma Watson's remarkable journey from a young actress in the "Harry Potter" series to a global advocate for gender equality and education exemplifies the power of using one's platform for positive change. Her dedication to meaningful causes, her talent as an actress, and her ability to inspire others make her a true trailblazer in the entertainment industry. Emma Watson's impact extends far beyond the silver screen, as she continues to champion equality, empower individuals, and shape a more inclusive and sustainable world.
Read more about models here.