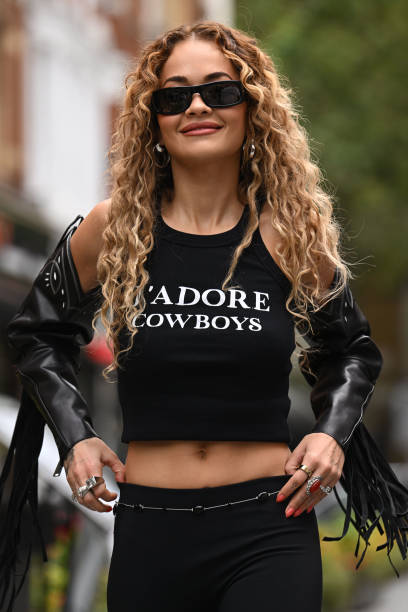 Introduction
Rita Ora, a force to be reckoned with in the music industry, has captivated audiences with her powerhouse vocals, infectious energy, and undeniable talent. From her chart-topping hits to her captivating performances, Ora has solidified her position as one of the most dynamic and versatile artists of her generation. In this article, we will delve into the remarkable journey of Rita Ora, her musical accomplishments, her influential style, and her unwavering commitment to her craft.
1. Early Beginnings and Musical Breakthrough
Born on November 26, 1990, in Pristina, Kosovo, Rita Ora discovered her passion for music at a young age. Her journey to stardom began when she signed with Roc Nation, Jay-Z's record label. Ora's debut single, "R.I.P," featuring Tinie Tempah, soared to the top of the charts, marking her arrival as a rising star in the music industry.
2. Chart-Topping Hits and Musical Versatility
Rita Ora's discography is brimming with infectious hits that have dominated the airwaves. From the catchy "How We Do (Party)" to the anthemic "Anywhere," Ora showcases her versatility by effortlessly transitioning between genres, including pop, R&B, and dance. Her ability to infuse her unique style and powerful vocals into every song has earned her a dedicated fan base and critical acclaim.
3. Electric Stage Presence and Captivating Performances
When Rita Ora takes the stage, she commands attention with her electric energy and magnetic presence. Her live performances are a testament to her artistry, as she effortlessly engages the audience and delivers unforgettable shows. Ora's stage presence, combined with her remarkable vocal range, leaves audiences captivated and eagerly anticipating her next performance.
4. Influential Style and Fashion Icon
Rita Ora is not only celebrated for her musical talents but is also revered as a fashion icon. Known for her bold and daring sense of style, Ora fearlessly experiments with fashion, pushing boundaries and making bold statements. From red-carpet appearances to street style, she effortlessly blends high fashion with streetwear, inspiring countless fans to embrace their individuality and express themselves through fashion.
5. Collaborations and Artistic Collaborations
Throughout her career, Rita Ora has collaborated with some of the biggest names in the music industry, including Calvin Harris, Ed Sheeran, and Liam Payne. Her ability to seamlessly blend her unique sound with various artists' styles has resulted in chart-topping collaborations and memorable musical moments. Ora's willingness to explore new creative avenues and work with diverse talents showcases her dedication to her craft and her passion for pushing artistic boundaries.
6. Philanthropy and Social Initiatives
Beyond her musical achievements, Rita Ora is actively involved in philanthropic endeavors and social initiatives. She has used her platform to raise awareness and support causes such as UNICEF, Women's Aid, and amfAR. Ora's commitment to making a positive impact extends beyond her music, demonstrating her compassion and desire to effect meaningful change.
7. Global Influence and Inspirational Figure
Rita Ora's impact stretches far beyond her music and fashion choices. As an artist of Kosovar-Albanian heritage, she has broken barriers and inspired individuals from diverse backgrounds around the globe. Ora's success serves as a source of inspiration for aspiring artists, encouraging them to pursue their dreams fearlessly and embrace their unique identities.
8. Conclusion
Rita Ora's journey from a young girl with a passion for music to a global superstar is a testament to her talent, resilience, and unwavering dedication. With her chart-topping hits, electrifying performances, influential style, and commitment to philanthropy, Ora has solidified her place as a multifaceted talent and an inspirational figure. As she continues to evolve as an artist and make her mark in the industry, Rita Ora's impact on music and popular culture will undoubtedly endure for years to come.
Read more about models here